According to the USCM research, among 335 smart city projects implemented in the USA, 69 take place in large cities, 168 in mid-sized and 98 in small cities. These numbers are enough to prove that "smartness" is not about size – it is about choosing the right approach.
In this article, we explore the peculiarities of implementing IoT solutions in smart cities of different sizes and list feasible IoT applications for large, mid-sized and small cities.
Classification of cities by size
There is no universal classification of cities by size. The division based on the land area seems irrelevant in terms of implementing IoT solutions. To create an "IoT-friendly" classification we classified cities by population and came up with the following numbers:
Large cities: cities with a population greater than or equal to 500,000.
Midsized cities: cities with a population between 100,000 – 500,000 people.
Small cities: cities with a population up to 100,000 people.
In the context of IoT, it is not only population that refers a city to a particular size group. Such factors as budgetary capabilities, available infrastructure and equipment, as well as the ability to provide different levels of services should also be taken into account for determining how to make a city smart.
For each size group, we list feasible IoT applications. Why did we choose them in the first place? Based on the State of the Cities address, we have singled out the most frequent challenges, which large, mid-sized and small cities face and then selected IoT solutions that help address these challenges.
But it doesn't mean that the application of these solutions is restricted to a particular size group. Some of them can be applied in both larger and smaller cities with equal effectiveness. For example, smart parking solutions can be equally relevant for New York and Columbia, SC. The scale and the depth of implementation will be different, but the approach remains the same.
Overview
To avoid misconception, we've come up with a table that shows applications' relevance for a particular size group. In the table,
+++ stands for the high degree of relevance for a particular size group.
+ means that an application can be implemented with certain restrictions either in terms of investments or the scale of implementation.
- means that an application's value for a particular size group is questionable.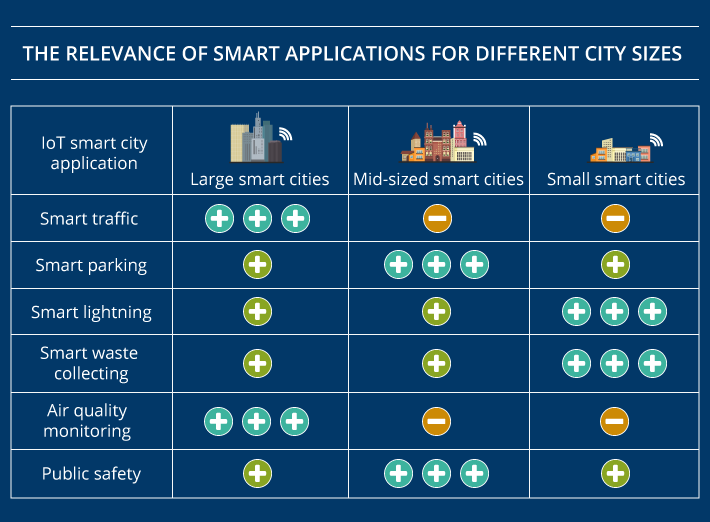 Large smart cities
Large cities have great infrastructure possibilities and technological means (extensive mobile networks, network nodes, local data centers), as well as larger capital budgets. It allows them to leverage the power of smart technologies and use data to make meaningful changes.
On the other hand, there are some challenges that may hinder the adoption of IoT-based smart city solutions, e.g. the scale of implementation. In addition to deploying sensors, cities have to roll out solutions capable of gathering, storing and processing enormous amounts of constantly streaming data.
The larger the city is, the larger amount of data is collected, stored and processed, the more efficient IoT solution the city needs.
Our IoT development experience proves that to develop a mature solution, it is better to use iterative approach, creating a core platform and then expanding it both vertically and horizontally. Vertical expansion implies improving platform architecture, while horizontal expansion means integrating more services. This way, you can gradually build up a well-rounded smart city infrastructure.
The following applications seem particularly relevant for large smart cities:
Traffic management
One of the greatest challenges for large smart cities is optimizing traffic. Why not follow the example of Los Angeles? Being one of the most traffic-affected cities in the world, the city has implemented a smart traffic solution to control traffic flow. Road-surface sensors send real-time updates about the traffic flow to a central traffic management platform. The platform analyzes the data and automatically makes second-by-second traffic lights adjustments, adapting to changing conditions and using historical data to predict where traffic could go, all without human involvement.
Monitoring air quality
Air pollution is one of the major threats to the wellbeing of a large city's residents. To control air quality, cities can deploy a network of sensors along busy roads and plants to monitor the amount of harmful gases in the air. This way, sensors monitor the amount of CO, nitrogen and sulfur oxides, while a central cloud platform aggregates, analyzes and visualizes sensor readings, so that platform users can view the map of air quality and use this data to point out areas where air pollution is critical and work out recommendations for citizens.
Mid-sized smart cities
Mid-sized cities face similar challenges as larger cities, but they are less equipped to effectively respond to these challenges because of the constrained infrastructure resources, smaller budgets, as well as limited asset-to-asset and asset-to-cloud connectivity. At the same time, their size allows more mobility and faster implementation. Smart city solutions can have a visible effect on the mid-sized city's ecosystem in a way it might not in a bigger city.
Among applications relevant for mid-sized cities are the following:
Public safety solutions
The State of the Cities report proves that mid-sized cities are heavily concerned with public safety issues. For delivering public safety, IoT-based smart city technologies offer real-time monitoring, analytics and decision-making tools.
For example, combining data from sensors with the data from social media feed and analyzing it in real time, public safety solutions can predict potential crime scenes and send notifications to the police patrol in the area. As a result, the police can stop potential perpetrators or successfully track them.
Smart parking
Smart parking solutions identify when a vehicle has left the spot, send alerts to users' phones when their time is about to expire, and show drivers where free spaces are located. It is a tangible solution that doesn't require complicated infrastructure and high investments, so it is perfectly suitable for a mid-sized smart city.
Small smart cities
On the way to smartness, small cities face many barriers: under-resourced IT infrastructure, budgetary and procurement shortages, limited resources for public services. However, it doesn't mean a small city cannot be a smart city. Here is the proof.
The town of Vail, CO has less than 6,000 inhabitants, but it boasts an extensive smart infrastructure. The town started smart city development with connected street lights. Later, they used the existing infrastructure to implement new services, such as smart parking and irrigation systems. For small cities, it makes sense to follow the example of Vail and start smart city development with the projects that require small budgets and deliver tangible return on investments, such as:
Smart lighting
Equipping streetlights with sensors and connecting them to a central management solution helps to adapt lighting schedule to the lighting zone. Sensor gather data on day light and movements to relay it to the cloud for analysis. The cloud combines sensor data with historical and contextual data (e.g. time of year, special events, public transport schedule, etc.) and "tells" a streetlight to dim, brighten, switch on or switch off the lights based on the conditions. Smart lighting solutions help reduce energy costs, for example, the city of Schenectady (65,000 inhabitants) estimated that connecting streetlights saved over 370,000 dollars in just one year.
Smart waste collecting
Waste management solutions help optimize waste collection schedules, significantly lower car exhausts, and reduce costs for gasoline. It is easy to implement and the payoff is fast. Each waste container gets a fill-level sensor that gathers the data about the level of the waste in a container. Once it is close to a certain threshold, the management platform receives sensor record, processes it and sends a notification to a truck driver's mobile app, who empties a full container, avoiding emptying half-full ones.
Sharing solutions
Smart cities may share a common smart city platform, which is especially relevant for small cities. The cloud nature of IoT solutions for smart cities is suitable for that. By sharing a platform based on open data, small cities may form a common urban ecosystem. It helps use limited resources more efficiently, enhance affordability and accessibility of smart applications. Small cities can also share a platform with mid-sized and large cities, forming a network of several cities. This way, smart city solutions of both small and large smart cities are connected to and managed via the central cloud platform. One of the examples of such sharing is the Iberian Smart Cities Network in Spain, which is currently composed of 111 cities. They comprise cities of different size and cooperate in different areas including smart energy, mobility, environment, and transport.
To sum up
The size of a city is not an obstacle on the way to smartness. Cities of each size group can benefit from smart technologies. There are, however, some points to remember.
Starting smart city development in a large city, apply iterative approach – it will help you hasten implementation and avoid excessive investments.
In mid-sized and small cities, it makes sense to start with small projects that do not require huge investments and can quickly pay off, such as smart waste collection, smart lighting, and smart parking. Later, it will be possible to expand smart city infrastructure, either connecting more services to the existing platform or, what is more profitable for small cities, sharing a common platform.
https://www.scnsoft.com/blog/iot-applications-for-smart-cities-of-different-sizes